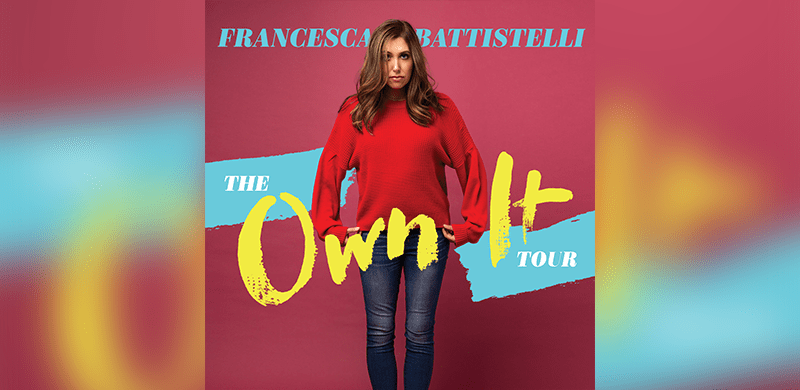 Nashville, Tenn. (Jan. 24, 2019) – Francesca Battistelli has announced "The Own It Tour," named after the multi-award winning artist's latest critically acclaimed release. This March and April, the tour will hit top markets across the country including Denver, Houston, Portland, Seattle and more. Promoted by Premier Productions and produced by Sometimes Savvy Management, the tour features special guests Stars Go Dim and Elle Limebear.
"The songs on this album Own It are so empowering. It meant so much to finally get to share them when the album was released, but there is something even more special about getting to experience them live together," said Battistelli. "To truly own your identity in Christ is so important, and I'm excited to invite people into that with me. It's going to be an amazing tour!"
Battistelli will be performing songs from her latest release, Own It, along with many of her previous hits and fan favorites. It will be a night to listen, interact, and worship. Tickets for "The Own It
Tour" are available nationwide on Jan. 29. For more info go to https://francescamusic.com/ or https://www.premierproductions.com/.
"The Own It Tour"

*all dates subject to change, artists may vary by date
March
21 – Washington, DC
22 – Akron, OH
23 – Lexington, KY
24 – Holland, MI
28 – Baton Rouge, LA
29 – Houston, TX

April
1 – Joplin, MO
4 – Denver, CO
6 – Portland, OR
7 – Seattle, WA
11 – Castro Valley, CA
12 – Riverside, CA
13 – Phoenix, AZ
14 – Tucson, AZ
About Francesca Battistelli:
GRAMMY® award-winning artist Francesca Battistelli began writing and performing original songs at age 15. A childhood immersed in art, music, dance and theatre prepared her for a future career on the stage. Since her 2008 Gold-certified debut, My Paper Heart, Battistelli has propelled three consecutive studio projects to the top of Billboard's Christian Albums chart and notched seven No. 1 radio singles, including multi-format, 15-week chart-topper "Holy Spirit." The wife and mother of four has appeared on Good Morning America and FOX & Friends and has seen her music placed in a variety of high-profile films and television shows. In addition to one GRAMMY® win and four career GRAMMY® nominations, Battistelli has garnered a Billboard Music Award nod, two K-LOVE Fan Awards and six Dove Awards, including being named the Gospel Music Association's Artist of the Year, a Gold album and three certified Gold singles. With total on-demand streams exceeding 300 million, YouTube views of over 65 million, and total consumption over 2 million, the singer/songwriter continues to be one of the strongest voices in Christian music.