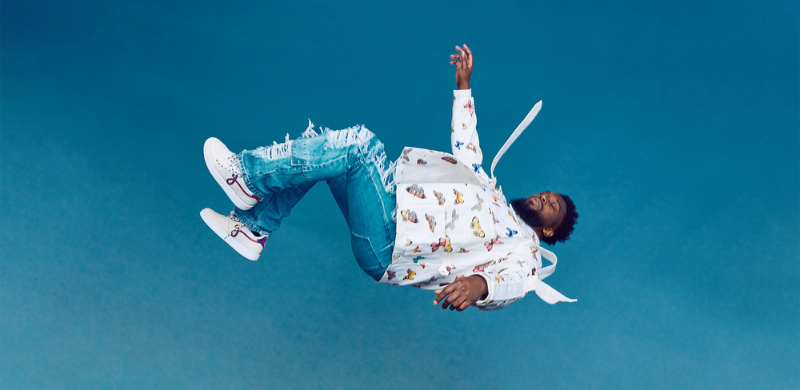 Today, Friday, January 14th, Five-time Grammy nominated artist, Dante Bowe, will bring "Joy" to the Tamron Hall Show with an exclusive interview to discuss his humble beginnings and historic Grammy nominations, along with an exclusive performance of his fresh, feel-good anthem, "joyful." For a complete list of air times and affiliate channels, please view HERE.
"joyful," the lead hit single from multi-platinum recording artist Dante Bowe's sophomore album, circles, reached No. 2 on Billboard's Gospel Digital Song Sales and No. 3 on Hot Gospel Songs, making it the highest solo charting position of Bowe's career. Bowe wrote his sophomore album, 'circles' that reflects on the death of his grandfather and the Black Lives Matter protests in 2020, and the album debuted at No. 7 on the Billboard Top Gospel Albums chart.
Dante Bowe has had arguably the most powerful year of his career, making history as the first artist to have the greatest number of simultaneous nominations in both Gospel & Christian genres with 3 solo and 2 group Grammy award nominations for the upcoming 64th Grammy Awards including Best Gospel Performance/Song twice for "Voice of God" and "joyful," Best Gospel Performance/Song for "Wait on You" with Elevation Worship & Maverick City Music; Best 5 Gospel Album with Maverick City Music for Jubilee: Juneteenth Edition, and Best Contemporary Christian Music Album with Elevation Worship & Maverick City Music.
Dante Bowe closed out the season with top ten placements on three different Billboard Year End Charts, hailed as the Top New Gospel Artist of 2021–No. 9 overall for Top Gospel Artist, No. 4 for Top Male Gospel Artist, and No. 4 on Top New Christian Artists. Known for his distinctive raspy vocals, Bowe won his first Dove Award at the 52nd GMA Dove Awards for Contemporary Gospel Recorded Song of the Year for "joyful." The award-winning songwriter made history with "joyful" again and became the first artist to have his song chart on both the Billboard's Gospel Airplay and Christian Song charts, bridging the gap between Gospel and CCM formats. Recently seen at the 49th American Music Awards red carpet, Bowe has been featured in Variety, Billboard, Entertainment Tonight and Vogue Magazine'sFashion Round-up.
Bowe is set to embark on his first Spring 2022 tour, 'What Are We Waiting For? – The Tour," as a solo artist with four-time Grammyaward winners & Pop Sensations, For King + Country. Dante Bowe is the one to watch, and he is unstoppable.
##