Honorees & Nominees Include J.J. Hairston, John P. Kee,
Todd Dulaney, Vaughn Alvarez, Khalif Townes,
PJ Owens, Shawn Gibbs, & Keemon Leonard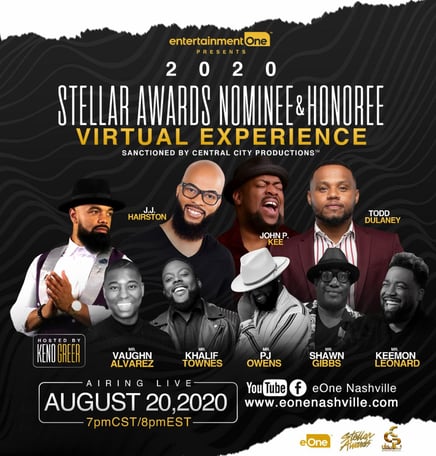 On behalf of eOne Nashville & Central City Productions, we'd like to invite you to attend the eOne 2020 Stellar Awards Nominee & Honoree Virtual Experience powered by Central City Productions on Thursday, August 20. The show will set the tone as the first rollout virtual experience for The 2020 35
th
Annual Stellar Awards Show™. Performances include, but will not be limited to Jonathan Nelson, Jabari Johnson, Sensere, Dexter Walker & Zion Movement along with a few more surprises and guest appearances. Honorees & nominees include J.J. Hairston, John P. Kee, Todd Dulaney, Vaughn Alvarez, Khalif Townes, PJ Owens, Shawn Gibbs, & Keemon Leonard. The virtual experience is being hosted by Keno Greer. Keno, is a 2 time Stellar Award Nominated radio personality, host of Street Sermonz and as well an Emmy Award™ Nominated producer. Be sure to tune in on Thursday, August 20 at 8pm EST.
"To know that for us that the first time in 4 years, what was once a private celebration for our artists and managers; has now become a public moment endorsed by the highest organization in our genre. Social media is the leading agent in which we all have been granted the task to sell, promote and endorse our artists while they engage their fan bases/audiences. Our show will run through our eOne website, FB and YouTube," shares eOne Senior Vice President & General Manager Gina Miller.
Be sure to tune into the 2020 Stellar Awards Nominee & Honoree Virtual Experience on Thursday, August 20 at 8pm EST on
Facebook
and
YouTube
.
##