Elvis Presley's "Where No One Stands Alone" is His First No. 1 on the Billboard Christian Album Chart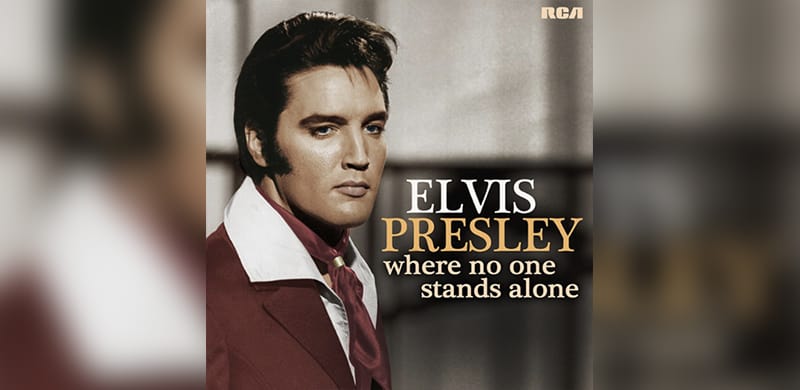 New Elvis Album Also Enters No. 1
on the Billboard Physical Albums Chart &
Billboard Vinyl Albums Chart;

Top 10 Album in the UK
August 20, 2018 – New York, NY / Nashville, TN – Elvis Presley has entered the Billboard Top Christian album chart at No. 1–a first for the legendary artist–with Where No One Stands Alone, a groundbreaking new album on RCA/Legacy celebrating the singer's everlasting love of gospel music. The new collection is also No. 1 on the Billboard Physical Albums chart and the Billboard Vinyl Albums chart. The album debuted in the Top 10 in the UK, marking his 53rd UK Top 10 album.
While three contemporary gospel albums recorded by Elvis–His Hand In Mine (1960, RIAA Platinum),How Great Thou Art (1967, RIAA 3x Platinum) and He Touched Me (1972, RIAA Platinum)–were released during the artist's lifetime, Where No One Stands Alone is the first Elvis album to hit No. 1 on the Billboard Christian album chart. Elvis Presley's religious recordings–singles, EPs, albums, compilations–have sold approximately 300 million copies in the US alone with "(There'll Be) Peace In The Valley (For Me)" and "Crying In The Chapel" each selling more than 20 million copies. Ten Elvis albums have hit No. 1 on the Billboard 200 while seven Elvis album titles have reached No. 1 on the Billboard Country chart.
Produced by Joel Weinshanker, Lisa Marie Presley and Andy Childs, Elvis Presley – Where No One Stands Alone introduces newly-recorded instrumentation and backing vocal contributions from music legends who'd performed on-stage and/or in-the-studio with Elvis. It also includes a reimagined duet with Elvis and his daughter, Lisa Marie Presley, on the album's title track and spiritual touchstone.
Background vocalists on the album include: Darlene Love (who first sang with Elvis on his 1968 NBC television special); Dr. Cissy Houston (who, with The Sweet Inspirations, sang with Elvis on-stage beginning in 1969); Terry Blackwood, Armond Morales and Jim Murray (members of The Imperials, who sang on Elvis'How Great Thou Art – with the title song winning the 1967 Grammy® for Best Sacred Performance); and Donnie Sumner, Bill Baize, Ed Hill and Larry Strickland (members of Presley's longtime backup group, The Stamps).
Elvis Presley – Where No One Stands Alone provides new musical perspectives on 14 of the singer's favorite pieces of gospel music, from the reverential to the celebratory, with song selections including Presley's beloved enduring gospel classics (the 1965 Top 5 smash "Crying In The Chapel," "How Great Thou Art," "You'll Never Walk Alone"), praise-filled gospel-rockers (Jerry Lieber and Mike Stoller's "Saved") and traditional hymns and spirituals ("So High," "Stand By Me," "In The Garden," "Amazing Grace").
Elvis Presley – Where No One Stands Alone is available now by visiting https://Elvis.lnk.to/WNOSA!PR2.
For future Elvis Presley music news, please visit:
WEBSITE: ElvisTheMusic.com
GRACELAND: Graceland.com
FACEBOOK: www.Facebook.com/ElvisTheMusic
NEWSLETTER: https://Elvis.lnk.to/nl_form!pr2
##