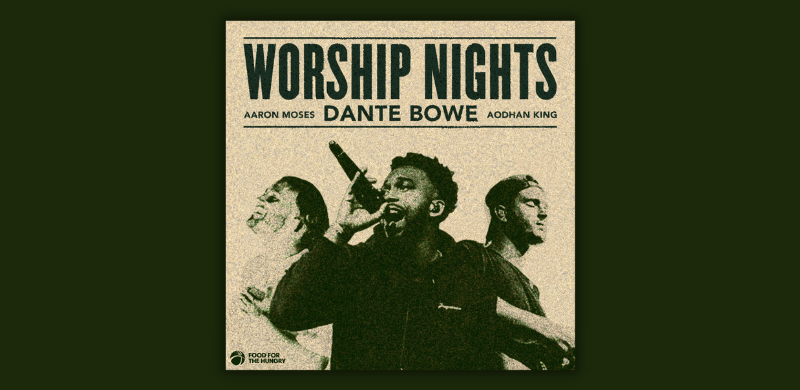 Premier Productions, Dante Bowe and Food for the Hungry announce the Worship Nights Tour. The tour will span eight cities and will see Bowe fresh off the What Are We Waiting For? Tour with for KING & COUNTRY.
"I think this tour is going to be a special one because we're going back to simple worship," said Bowe. "We're stripping away the smoke, lights and all the extra things we tend to use. Not that those things are bad, but these are going to be nights of remembrance. Remembrance of what Jesus has done and what He has yet to do."
For his first solo headlining tour, Bowe is bringing along fellow Maverick City artist Aaron Moses and Hillsong's Aodhan King.
Audiences can sign up for the exclusive pre-sale on Wednesday, May 18, at dantebowelive.com. Tickets go on sale to the public on Thursday, May 19th at 10:00 a.m. local time.
The eight-city summer tour will kick-off on August 13th in Minneapolis, MN and will stop in Columbus, OH, St. Louis, MO and Memphis, TN before the final show on August 21st in Lexington, KY. For a full list of dates and cities, see below.
Saturday, August 13, 2022 Minneapolis, MN
Sunday, August 14, 2022 Peroia, IL
Monday, August 15, 2022 Columbus, OH
Tuesday, August 16, 2022 Fort Wayne, IN
Thursday, August 18, 2022 St. Louis, MO
Friday, August 19, 2022 Tulsa, OK
Saturday, August 20, 2022 Memphis, TN
Sunday, August 21, 2022 Lexington, KY
##