Country Music Icon ALAN JACKSON Lands No. 1 Chart Positions for Rerelease of Precious Memories, Live at the Ryman DVD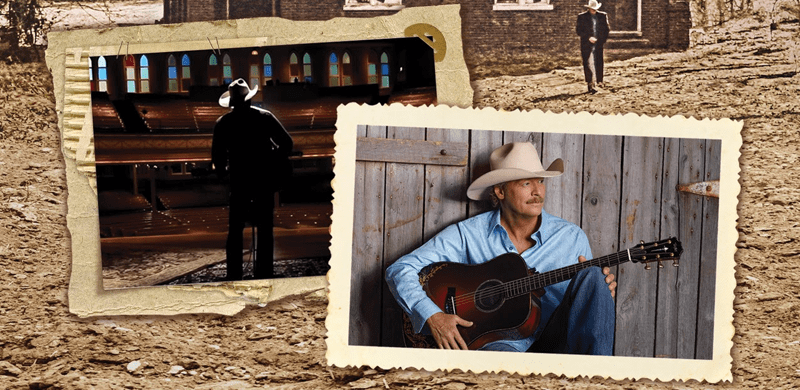 Gaither Music Group and Jackson Celebrate This Week's No. 1 Top-selling DVD on Two Billboard Sales Charts
RFD-TV to Add New Airings of Jackson's TV Special Surrounding DVD Collection
NASHVILLE, Tenn.–August 25th, 2017— Country music superstar Alan Jackson is back at the top of the charts this week, celebrating the No. 1 spot on this week's Billboard Music Video chart, according to Nielsen Soundscan, with the rerelease of his LIVE DVD recording entitled Precious Memories, Live at the Ryman.
Precious Memories, rereleased by Gaither Music Group and produced by Martin Fischer and directed by James Burton Yockey, also garnered the No. 1 position on this week's Christian Video chart. In addition, Jackson's 2-CD Precious Memories set (Universal) climbed up this week's Country chart to the No. 8 position and landed the No. 2 position on the week's Contemporary Christian Music chart.
"It is a joy to partner with Alan Jackson on this DVD," stated Gaither Music Group founder and gospel music legend Bill Gaither. "As a songwriter, I really appreciate the beauty of a well-written song; and Alan has been showing the world for a long time how to write great songs. On this recording, he went back to songs that both of us treasure—hymns of the church—with lyrics that keep on inspiring us with their timeless messages."
Taped at the historic Ryman, known as "The Mother Church of Country Music" in Nashville, TN, the nostalgic, 14-song collection captures Jackson's stage performances of songs from his first gospel recording, Precious Memories, originally released in 2006. The video, which features Jackson's heartwarming tones singing signature renditions of traditional hymns and gospel favorites, also includes behind-the-scenes interviews with him, his mother and his wife as he reflects on his musical roots.
The TV special—an immediate hit with viewers across networks—enjoyed a strong premiere on RFD-TV which has now added two shows to its list of airings as follows:
September 11th 8:00 p.m. EST
September 11th Midnight EST
The Precious Memories DVD is also airing as part of a television special on DirecTV, Dish TV, TBN, PBS, The Heartland Network, GaitherTV, FamilyNet, CTN, GMC, GMTN, Guardian, Liberty, TCT and TLN. It is airing in Canada on Vision TV, CTS, The Miracle Channel and Hope TV. The DVD is featured on Gaither Music Group's website, the Gaither Catalog Collection, digital assets, social media and YouTube channel.
Precious Memories, Live at the Ryman is exclusively distributed by Capitol Christian Music Group and Universal Music and is available now throughout general market stores and the Christian marketplace in addition to online retailers including Walmart, iTunes, Amazon, www.gaither.com and www.alanjackson.com.
The video is AVAILABLE NOW at the following links:
http://capcmg.me/PreciousMemoriesDVD
Amazon
http://capcmg.me/am.preciousmemories
Catch a PREVIEW of the DVD:

Upcoming air dates for the Precious Memories, Live at the Ryman TV special are as follows:
UNITED STATES and CANADA TV LISTINGS:
Eastern Time Zone; Check local listings for channels
RFD-TV
September 11th 8:00 p.m. EST
September 11th Midnight EST
Sept 14 6:30 p.m.
Sept 16 6:00 p.m.
TBN
Sept 16 7:00 p.m.
The Heartland Network
Sept 12 8:00 p.m.
Sept 16 12 p.m. & 8:00 p.m.
Sept 17 8:00 p.m.
Sept 17 12 p.m.
Total Living Network
Sept 16 check local listing
The Walk-TV
Sept 16 12 a.m.
Sept 17 See Your Local Listings
Christian TV Network
Sept 16 4 p.m.
CTN
Sept 16 4 p.m.
CTS
Sept 16 5:00 p.m.
CANADA
The Miracle Channel
Sept 16 11:30 p.m.
Vision TV
Sept 15 9:00 p.m.
Sept 16 5:30 a.m.
Hope TV
Sept 16 12 a.m.
Sept 17 12 a.m.
Crossroads TV
Sept 16 3:30 p.m. & 5 p.m.
For further information, connect at https://www.facebook.com/OfficialAlanJackson or www.alanjackson.com or on Twitter: @OfficialJackson.
Precious Memories, Live at the Ryman–DVD Song List:
1. Blessed Assurance
2. In the Garden
3. I Love to Tell the Story
4. Turn Your Eyes upon Jesus
5. 'Tis So Sweet to Trust in Jesus
6. When We All Get to Heaven
7. BONUS: Softly and Tenderly
8. BONUS: Standing on the Promises
9. Are You Washed in the Blood? / I'll Fly Away
10. What a Friend We Have in Jesus
11. Leaning on the Everlasting Arms
12. The Old Rugged Cross
13. How Great Thou Art
14. I Want to Stroll over Heaven with You
ABOUT ALAN JACKSON
Recently announced as an inductee to the Country Music Hall of Fame, Alan Jackson's membership among country music's all-time greats is the latest in a long line of career-defining accolades that include three CMA Entertainer of the Year honors, more than 25 years of membership in the Grand Ole Opry, a 2016 Billboard ranking as one of the Top 10 Country Artists of All-Time, induction to the Nashville Songwriters Hall of Fame and the Heritage Award as the most-performed country songwriter-artist of ASCAP's first 100 years.
The man from rural Newnan, GA, has sold nearly 60-million albums worldwide and ranks as one of the 10 best-selling male vocalists of all-time in all genres. He has released more than 60 singles – registering 50 Top Ten hits and 35 #1s (including 26 Billboard chart-toppers). He has earned more than 150 music industry awards – including 18 Academy of Country Music Awards, 16 Country Music Association Awards, a pair of GRAMMYS® and ASCAP's Founders and Golden Note Awards.
Jackson is one of the most successful and respected singer-songwriters in music. He is in the elite company of Paul McCartney and John Lennon among songwriters who have written more than 20 songs that they have recorded and taken to the top of the charts. Jackson is one of the best-selling artists since the inception of SoundScan, ranking alongside the likes of Eminem and Metallica.
##