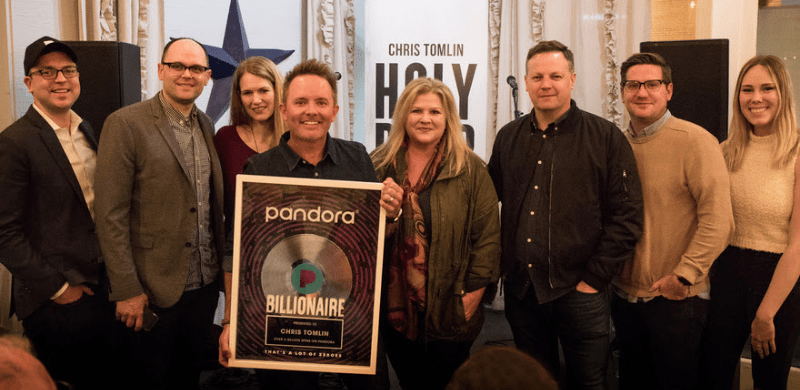 1.8 Billion Lifetime Streams, 2.6 Million Unique Listeners and
20+ Million Streams Each Month All on Pandora
Nashville, TN (October 24, 2018) – During an exclusive album preview event in Nashville this week for loyal Pandora listeners, Chris Tomlin was recognized as the first Christian artist to reach the billion streams threshold on Pandora and was presented with their Billionaire award. Chris is one of only a handful of artists in any genre to reach this benchmark. To date, Chris has 1.8 Billion lifetime spins and averages 4.5 million streams per week. Chris spoke with the Associated Press about the recognition, view it here.
"I'm so honored to represent this amazing genre of music that features so many incredible artists," said Chris. "What this 'billion' honor reminds me of is that every week there are billions of people who gather together in worship. Anywhere there is dirt on this earth people are worshipping God. I'm so thankful to be a part of that."
"The level of Chris Tomlin's performance on Pandora is extremely rare and exceptional in the Christian/Gospel genre, with 1.8 billion lifetime streams, 2.6M unique listeners and 20M+ streams each month," says Melissa Chalos, Programming Curator, Christian/Gospel Music | Pandora. "Fifteen of the Top 100 worship songs sung in churches around the globe have his name on them, and 8 of his 11 album releases have reached No. 1. We are excited to welcome worship artist Chris Tomlin to the Pandora Billionaire's Club and to acknowledge the millions of fans engaging with his music here on Pandora. It's our loyal Pandora listeners who determine which artists become billionaires, and we honor them and their pick in Chris."
For all of your favorite Chris Tomlin tracks in one place on Pandora go here.
With 11 albums, 16 #1 radio singles, a Grammy award, 21 Dove Awards, and two platinum and five gold albums to his credit, Chris is among the most recognized and influential artists in any genre of music known around the world. It is estimated each week 20-30 million people sing one of his songs in worship. Last fall, in another career milestone Chris became one of only four artists ever to receive the Sound Exchange Digital Radio Award for over 1 billion digital radio streams, others include Justin Timberlake, Pitbull and Garth Brooks.
This Friday, Chris will release his new album Holy Roar with a companion book Holy Roar: 7 Words That Will Change the Way You Worship available now. On November 30, he will launch Chris Tomlin Christmas: Christmas Songs of Worship Tour scheduled to run through December 16, 2018 wrapping at the Beacon Theater in New York City. And recently announced, Chris will launch the Holy Roar Tour in March 2019 with guests Tauren Wells, Pat Barrett, Nicole Serrano and Chris' Pastor Darren Whitehead. Tickets for both tours will be available at www.christomlin.com.
About Chris Tomlin
Chris Tomlin is one of the most heralded singer-songwriters in the world who has amassed an impressive body of work. He has sold more than 8 million albums, 11.3 million digital tracks with 16 #1 singles. The Grammy® winner's list of music awards include an American Music Award, 3 Billboard Music Awards, 21 Dove Awards, a BMI Songwriter of the Year Award and more. Chris' concert tours have sold-out venues in major cities including New York City's Madison Square Garden, The Forum in Los Angeles, Nashville's Bridgestone Arena and Red Rocks in Denver, among others. This spring, Chris launched his own imprint record label, Bowyer & Bow, in partnership with Capitol Christian Music Group.
For more information visit: www.christomlin.com or follow Chris on Twitter Instagram Facebook and YouTube .
About Pandora
Pandora is the world's most powerful music discovery platform – a place where artists find their fans and listeners find music they love. We are driven by a single purpose: unleashing the infinite power of music by connecting artists and fans, whether through earbuds, car speakers, live on stage or anywhere fans want to experience it. Our team of highly trained musicologists analyze hundreds of attributes for each recording which powers our proprietary Music Genome Project®, delivering billions of hours of personalized music tailored to the tastes of each music listener, full of discovery, making artist/fan connections at unprecedented scale. Founded by musicians, Pandora empowers artists with valuable data and tools to help grow their careers and connect with their fans. www.pandora.com amp.pandora.com
##