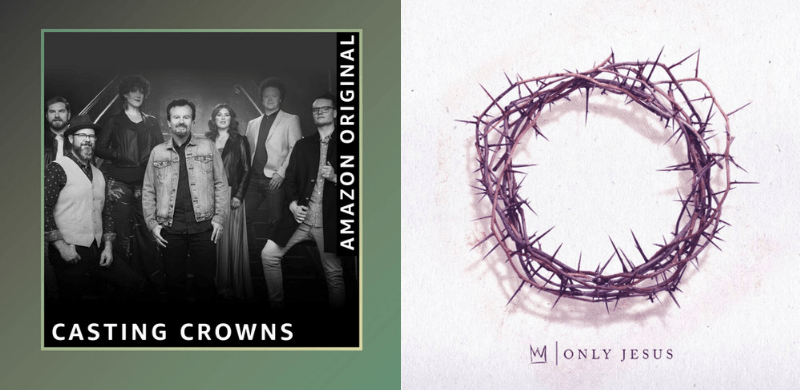 Stripped-Down Re-Imagination of the Song From Their Forthcoming Album Only Jesus
Casting Crowns Alexa Skill Is Also Available Now on all Amazon Alexa Devices
Nashville, Tenn. (November 09, 2018) – Today, the GRAMMY-winning CCM band Casting Crowns released an Amazon Original single "Only Jesus." The new recording is a stripped down re-imagination of the song from their upcoming album, Only Jesus, which releases next Friday, November 16th. Stream and Download "Only Jesus" on Amazon Music here.
In addition to the Amazon Original single, Casting Crowns is the first Christian music artist to create and release a skill to Amazon Alexa devices. Alexa is Amazon's voice service and brain in devices like the Echo family. Alexa provides skills that allow the customer to create a personalized experience. Casting Crowns' skill is a daily devotional that can be added to the devices flash briefing, and the skill can now be added through the Alexa app (here).
When discussing the band's latest project, Only Jesus, Casting Crowns' frontman Mark Hall takes great pains to shift the focus off of the band, off of himself, and solely onto the one they sing about—Jesus. The new album digs deep into the who and the why, inviting the listener on a heart-journey of foundational faith, immovable trust and ultimately, freedom in Christ. The collection of songs are more than the life lessons and teachings from scripture fans have come to expect, they're personal expressions of the need for a savior. Only Jesus is an album full of depth and wisdom with plenty of energy and anthemic praise.
About Casting Crowns: Prolific CCM band Casting Crowns has achieved sales milestones with more than 11 million album sold including one RIAA 2x multi-Platinum album, five RIAA Platinum albums, two RIAA Platinum DVDs, seven RIAA Gold albums, four Gold DVDs, one RIAA Platinum certified single and five RIAA Gold certified digital singles. The band currently holds the position as Billboard's top-selling act in Christian music since 2007.
Casting Crowns has also been honored with four American Music Awards (out of seven total nominations), a GRAMMY Award for its 2005 album Lifesong, and seven GRAMMY nominations. In addition, the group has garnered 18 GMA Dove Awards and two Billboard Music Awards from 11 total Billboard Music Award nominations.
Casting Crowns' seven band members all remain active in student ministry in the Atlanta area and tour according to their local church commitments. Serving his 25 plus years in youth ministry, lead singer/songwriter Mark Hall maintains his role as the student pastor at Eagle's Landing First Baptist Church in Atlanta.
##