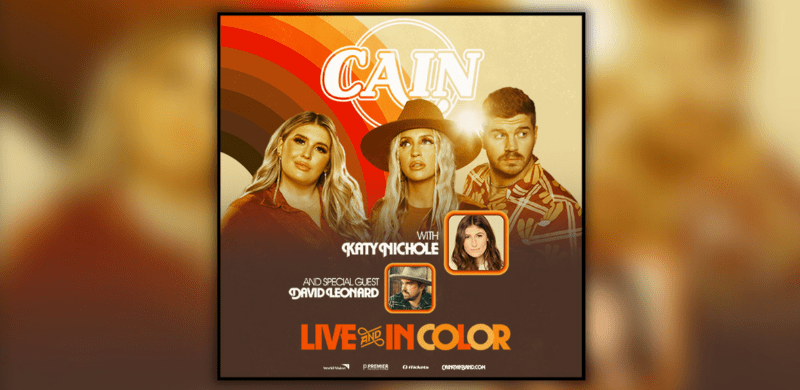 Premier Productions and CAIN announce the Live and In Color Tour with special guests Katy Nichole and David Leonard. CAIN's first headlining tour will span 30 cities and will see CAIN fresh off The Healer Tour with Casting Crowns. This tour will be special for band members and audience members alike as each night CAIN is asking their audience to show up matching in the same color as their tour outfits. CAIN is inviting the audience to be a part of the show by showing up live and in color. Check out CAINTour.com for your city's color!
"This spring, we are coming to you LIVE AND IN COLOR on our first ever headline tour," said Taylor Cain. "We were inspired to name the tour LIVE AND IN COLOR because wearing matching colors has become part of our tradition, but then we thought about what it would be like to have the entire audience match us too. How fun would that be?"
"If you've ever been to a concert, you're pretty used to the program: Opening Act, Middle Act, Headliner," added Logan Cain. "We're trying to do something completely new with our tour! We want people to get to know who we are and that includes humor, fun and entertainment as well as ministry, worship and a chance to encounter the presence of God."
The Live and In Color Tour will also see Katy Nichole and David Leonard in supporting roles. Katy Nichole joins the tour fresh off a historic year, with her hit singles In Jesus Name (God of Possible) and God is in This Story skyrocketing to number one on the charts. David Leonard also joins the tour fresh off the Mac Powell and Friends tour.
"We've been so fortunate to learn from the best in the business: Zach Williams, Toby Mac, and Casting Crowns," Madison added. "Each of these artists poured into us and taught us firsthand what it looks like to live out your faith on and off stage. Now, we are humbled to step out on our own and hit the road with Katy Nichole and David Leonard! We three, Katy and David have planned and prayed for this night, and we can't wait to see all that the Lord has in store! We can't wait to see YOU this spring!"
"I've had the privilege to experience CAIN's launch into Christian music over the past several years," said Josh "Mags" Magnin, Talent Buyer at Premier Productions. "When I came on board at Premier Productions, it was a personal goal of mine to help them launch their first headline tour. We know CAIN is going to deliver an incredible first-time headline tour. We have all worked together to craft an experience that will capture the essence of CAIN's authenticity, passion and fun-loving spirits from the stage. These three siblings were born to share the story and journey of their 'Commission.'"
Fans can sign up for the exclusive pre-sale now at CAINTour.com. After signing up, fans will not only be able to get tickets first, but will save $4 a ticket. Tickets go on sale to the public on Friday, December 9, at 10am local time.
The 30-city spring tour will kick-off on March 2nd in Bowling Green, KY and will stop in Jacksonville, FL, Oswego, IL (Chicago) and Austin, TX before the final show on May 6th in Birmingham, AL. For a full list of dates and cities, see below.
Thursday, March 2, 2023 – Bowling Green, KY
Friday, March 3, 2023 – Paducah, KY
Saturday, March 4, 2023 – Anderson, IN
Sunday, March 5, 2023 – Mt. Vernon, IL
Thursday, March 9, 2023 – Jacksonville, FL
Friday, March 10, 2023 – Clearwater, FL
Sunday, March 12, 2023 – Sarasota, FL
Thursday, March 16, 2023 – Glen Allen, VA (Richmond)
Friday, March 17, 2023 – Bensalem, PA (Philly)
Saturday, March 18, 2023 – Virginia Beach, VA
Sunday, March 19, 2023 – Lexington, SC
Thursday, March 23, 2023 – Somerset, KY
Friday, March 24, 2023 – Huntington, WV
Saturday, March 25, 2023 – Burlington, NC (Greensboro)
Sunday, March 26, 2023 – Mansfield, OH
Thursday, March 30, 2023 – Fayetteville, NC
Friday, March 31, 2023 – Valdosta, GA
Saturday, April 1, 2023 – Fayetteville, GA (Atlanta)
Thursday, April 20, 2023 – Holland, MI (Grand Rapids)
Friday, April 21, 2023 – Oswego, IL (Chicago)
Saturday, April 22, 2023 – O'Fallon, IL
Sunday, April 23, 2023 – Clarksville, TN
Thursday, April 27, 2023 – Flint, TX
Friday, April 28, 2023 – Allen, TX (Dallas)
Saturday, April 29, 2023 – Lubbock, TX
Sunday, April 30, 2023 – Bethany, OK (OKC)
Wednesday, May 3, 2023 – Odessa, TX
Thursday, May 4, 2023 – Austin, TX
Friday, May 5, 2023 – Russellville, AR
Saturday, May 6, 2023 – Birmingham, AL
##