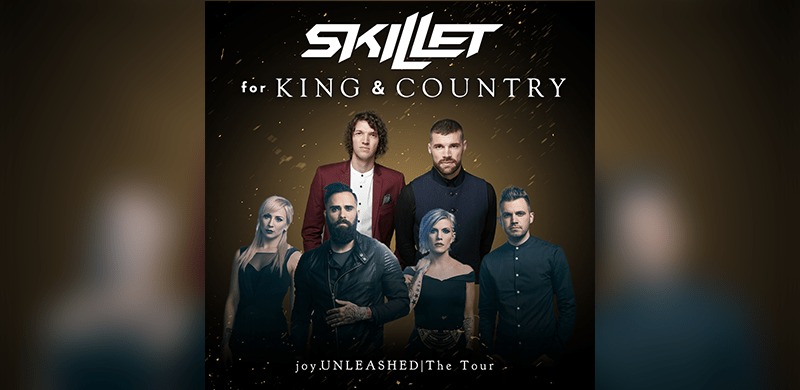 Multi-Platinum Selling Band And GRAMMY® Winners To Hit 15 Markets This Spring
Nashville, Tenn. (Jan. 23, 2018) – Skillet and for KING & COUNTRY unveiled that they will join forces for "joy.UNLEASHED | The Tour" stopping in over a dozen markets from mid-April through early May. The unprecedented double-headliner line-up will visit San Antonio, Cedar Rapids, Huntsville, Orlando, Miami and more. "joy.UNLEASHED | The Tour" marks the second time these two critically-acclaimed, top-selling acts share the stage for an incredibly theatrical, high energy and laser/pyro-filled show. Giving listeners the first chance to access tickets, a Spotify pre-sale will begin at noon central today, Jan. 23, followed by tomorrow's Ticketmaster pre-sale at noon CST. "joy.UNLEASHED | The Tour" public sale will be unveiled on Friday, Jan. 26 at 10 a.m. local time. VIP tickets include early entry with a crowd-free merch shopping experience and a pre-show Q&A with Skillet and for KING & COUNTRY.
"Very excited to be touring with my friends, for KING & COUNTRY!" shares Skillet's John Cooper. "We have been talking about it for several years. We have even shared the stage performing songs together. But finally we are joining forces for our own tour. It will be an uplifting, energetic, exciting show where fans will get to see something they have never seen from both acts before."
"We have so many memories when it comes to our friendship and history with Skillet," explains Joel and Luke of for KING & COUNTRY. "As teenagers we remember watching their sets from side of stage. They headlined the very first tour we were ever on! It's a real honor and joy for us to have the privilege of touring together."
Skillet released Unleashed Beyond late last year, a deluxe edition of their chart-topping album which included the RIAA Gold Certified Single "Feel Invincible" and coincided with the double platinum certification of Awake. Following the celebration around their RIAA Certified Gold Album RUN WILD. LIVE FREE. LOVE STRONG., for KING & COUNTRY is now working on their anticipated third full-length, original album set to release in 2018.
joy.UNLEASHED | The Tour
* All dates subject to change, visit www.Skillet.com or www.forKINGANDCOUNTRY.com for the latest information.
04.12 Amarillo, TX
04.13 Dodge City, KS
04.14 Topeka, KS
04.15 Kearney, NE
04.19 San Antonio, TX
04.20 Edinburg, TX
04.21 San Angelo, TX
04.26 Carbondale, IL
04.27 Port Huron, MI
04.28 Muskegon, MI
04.29 Cedar Rapids, IA
05.03 Huntsville, AL
05.04 Jacksonville, FL
05.05 Orlando, FL
05.06 Miramar, FL
##