Award-Winning Australian Duo for KING & COUNTRY Nominated for Two Billboard Music Awards
Nashville, TENN. – Today, four-time GRAMMY® award-winning Australian duo and Curb | Word Entertainment recording artist for KING & COUNTRY has been nominated for two Billboard Music Awards – Top Christian Artist and Top Christian Song – "God Only Knows." The "2020 Billboard Music Awards," hosted by Kelly Clarkson, are set to air on NBC and will broadcast live Wednesday, Oct. 14 at 8:00 P.M. ET.
Joel and Luke Smallbone, the brothers that make up for KING & COUNTRY, share in a statement: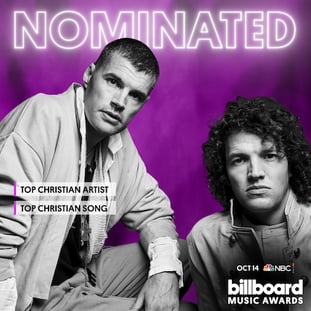 "2020 has been a year that none of us will forget, and through these times it's given us a new perspective about life, but also about music and the role that it plays. Music has been one of the things that has comforted and helped provide healing to hurting people all over the world and for us. It feels as though the message of 'God Only Knows' rings truer now than when we wrote the song. Yes, 'God Only Knows' what we've all been through in 2020, but despite all of that, we believe there is still a kind of love that 'God Only Knows.' To the Billboard Music Awards for the nominations and for continuing to recognize the power of music in such desperate times as these, we say a heartfelt 'thank you very much.' We're most grateful!"
This exciting news comes on the heels of a fruitful summer for Joel and Luke. After kicking off Ryman Auditorium's first ever "LIVE AT THE RYMAN" exclusive livestream – which was included in a
CBS Sunday Morning
profile, the duo recently celebrated the honor of one billion total on demand streams and saw their hit track "TOGETHER" reach No. 1 on the charts for five weeks. "TOGETHER" has broken Top 25 on the mainstream charts, sitting at No. 16 on the AC chart and No. 24 on the Hot AC chart. for KING & COUNTRY will be performing a mix of livestream and drive-in shows throughout the country over the next few weeks. Click
here
for more information.
for KING & COUNTRY has recently announced its first ever full-length Christmas album, A Drummer Boy Christmas, due out on October 30. Stemming from a concept that originated near the start of the band, A Drummer Boy Christmas includes 13 tracks and features two original Christmas songs entitled "Heavenly Hosts" and an emotionally moving ballad from Joseph's perspective "A Carol of Joseph." You can pre-save, pre-add, and, pre-order the album
here
.
for KING & COUNTRY Upcoming Tour Dates
Sept. 26 – Kentucky Exposition Center – Louisville, KY*
Sept. 27 – Mercer County Fairgrounds – Celina, OH*
Oct. 3 – Six Flags Great Adventure – Jackson Township, NJ*
Oct. 4 – Bloomsburg Fairgrounds – Bloomsburg, PA*
Oct. 16 – Oaklawn Mansion – Spring Hill, TN*
Oct. 24 – Grounds @ John 3:16 Ministries – Charlotte, AR
Oct. 29 – Garfield County Fairgrounds – Enid, OK*
Oct. 30 – Ford Park – Beaumont, TX*
* – drive in show
##